From Sarria to Portomarin
Day 24, Monday 16 September 2013
Distance to Santiago: 105,5 km
It was dark and drizzly when we left the monastery for the walk to Portomarin.  It was cool after the previous night's rain.  There would always be hills on the Camino. There was no such thing that you could walk without encountering them. I found that the hills walked early in the morning and while it was still dark, was the easiest to master (because I could not see how steep it was) . But the ones at the end of a long walk and in the heat of  the day was a struggle.  The first 5 km to Barbadadelo was uphill.

For the first time there was a crowd on the Camino. Some of the new pilgrims also started early and I was amazed that I was able to pass some of them in contrast of people mainly passing me.
Later the darkness lift and we walked on a cloudy and hazy Camino.  The sun struggled to shine through the fog and created fairy-tale scenery.
The road was along tree-lined roads and pathways.
We walked through several small villages. From Barbadadelo to Morgade was a steep uphill climb. From Momientos it was very steep downhill to Portomarin.
The entrance to Portomarin was a long walk over a bridge with the Minho river flowing deep down.  To test your fitness, at the end of the bridge you have to climb many steep steps that lead you into the ancient town, which was rebuilt In the 1960s when the Minho river was dammed to create a reservoir, putting the old village of Portomarín under water.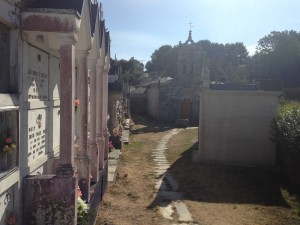 We slept in Albergue Ultreia, where we had a double private room with shared bathroom and communal kitchen. We went to the supermarket after we decided to cook a home made meal.
We walked 22,4 km for the day.